"Warren Whistles at the Sky" Book Review by 4C
Warren Whistles at the Sky is about a curious boy that tests out a legend about whistling at the Northern Lights. Warren was afraid of the Northern Lights but then he found his courage to not be afraid. When Warren whistles at the Northern Lights, something magical and surprising happens. Warren Whistles at the Sky is for people who believe in the power of legends.
"Alligator Baby" Book Review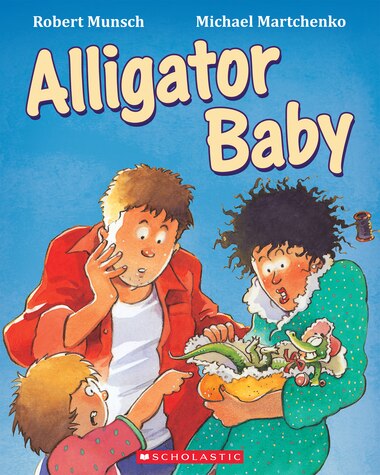 Title: Alligator Baby
Author:Robert Munsch
Illustrator:Micheal Marchenko
Publisher:Scholastic 
Date: 1997
Location: Toronto Can.              
Pages:30
Price:7.99
ISBN:13 978-0-590-12387-7
From Tyce: Alligator Baby is a humorous book about Kristen a young girl desperate to see her new baby brother coming home from the…. well zoo. Her dad got tangled up in the twisty windy roads. Eventually they get to the zoo, they don't exactly bring home a human baby. Where is Kristen's knew little brother and where is he? One of the best things Robert Munsch did was thrill the readers with humour and detail in the book, and Micheal Marchenko really paid attention to what he was drawing.    
"Bully" Book Review
Title: Bully
Author: Judith Caseley
Illustrator:  Judith Caseley
Publisher:  GreenWillow Books
Date:  2001
Location:  China       
Price:  $21:99
ISBN:  0-688-17868-5
From Taylor:
Bully is a dramatic story about a boy named Jack who is having a baby sister but Mickey doesn't know. Jack took a remarkable journey about friendship with Mickey. There was a playground argument that affected their friendship. Did Mickey and Jack become friends again? Read Bully to find out!  Bully is hard to put down, it's a real page turner. One of the best things about this book is the way Judith Caseley gets the reader to pick the book up and keep reading it. This book is recommended to EVERYONE that has their friendship been affected with someone they care about.
"Snow Day" Book Review
Title:   Snow Day
Author:   Werner Zimmermann
Illustrator:   Werner Zimmermann
Publisher: North Winds Press
Date:   1999
Location:     Ontario,Canada
Pages:  30
Price:   $19.25
ISBN: 059012485-5
From Tavius:
Snow Day is a marvellous story about a kid who hopes it's a snowday and it is. He eats his delicious breakfast and runs outside. His friends are already making snow angels and building fantastic forts.  There is a ton of fluffy snow in the city. Will the snow be fun or will it get in there way? This is a interesting book for young readers who like entertaining stories. Once you start reading this book, you will not be able to put it down.