Who is Mr. Jones?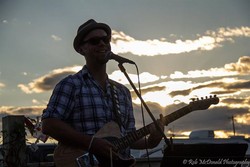 Greetings All!
My name is Kevin Jones and I will be teaching Grade 5 music and Grade 6-9 Band at College Park School.  I will also be running the jazz band and helping with the School of Rock program we'll be offering.
I come to College Park School with 10 years of teaching music at the high school level.  After a year in Dryden, ON, I spent 6 years teaching instrumental and choral music at Swan Valley Regional Secondary School in Swan River, MB.  After that, I took on the instrumental music program at LCHS here in Lloydminster, starting up the Garage Band program and leading our school ensembles to accolades across Western Canada.  I am really excited for the new challenge of teaching beginning and middle school band students, and look forward to building a culture of music in College Park School.
As a musician professionally, much of my leisure time is spent making music either as a singer-songwriter, with by band Seven Stones, or with the Lloydminster Community Band.  I also enjoy running, video games, and spending time with my young family.
I'm happily married the last 10 years to Chelle Jones, who also teaches band in LPSD, and together we have two beautiful children: Grayden, 7, and Poppy, 4.
Please stop by the band room in September to introduce yourself and have a look around!  I look forward to meeting you all.
Musically Yours,
Kevin Jones